Established in 1908, Athens Baking Company, Inc., is a wholesale and retail supplier of soft baked breads, buns, and rolls. Located in Northern California, we provide fresh product delivery throughout California, and nationwide product distribution through our Thaw & Sell program. Athens Baking supplies products formulated and packaged to meet the specifications of foodservice, ingredient/component, in-store bakery, in-store deli, and retail/private label sales channels.
Our Heritage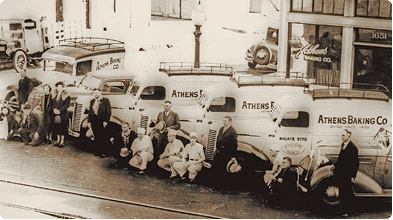 Athens Baking was established over 100 years ago as a wholesale provider of fresh soft baked breads, buns, and rolls for local Northern California, schools, and other foodservice operators. Our business relationships with our customers were personal and we were widely known for our excellent service and attention to detail.
In 1986, Athens Baking was purchased by the Smart family. Building on the long established reputation for quality products and unparalleled service, we have continued the traditions Athens Baking became known for as we expanded product lines and programs to better serve the growing market for quality bread products not only in restaurants, schools, and other foodservice operations, but also at retail outlets.
Athens Today

At Athens Baking, we have expanded our products and programs by integrating modern baking ingredients and technology into our commitment to maintain the values of our heritage. While we still provide direct-store-delivery (DSD) to California customers, we are also able to serve customers coast-to-coast through our Thaw & Sell capabilities.
Our service team includes baking industry veterans who understand the demands of the sales channels we serve and are prepared to offer creative solutions to meet individual customer needs. As a supplier of wholesale and retail breads, buns, and rolls, Athens Baking is a well respected and valued partner to independent grocers, specialty stores, and foodservice operators, as well as regional and national grocery and foodservice chains, and school districts.
Products & Programs
Athens Baking offers a wide array of quality soft baked breads, buns, and rolls within the following product categories:
Athens Baking provides products and specialized programs to
meet the unique needs of customers in each of the following
sales channels: